A Simple Green Smoothie
In this post, I thought I'd share one of my favorite green drink recipes!
I don't have a juicer, but I love my blender. I use it regularly to make smoothies.
Smoothies are a great way to:
Easily and efficiently get your recommended servings of fruits and vegetables

Get the good stuff early, to fuel a productive day

Use frozen fruits and veggies (a convenient and economical option)

Use up extra produce in your fridge

Get your kids eating more fruits and veggies!
Mango & Fresh Greens Smoothie Recipe
I love this recipe because it is:
Simple - I'm all about simple.

Healthy - 3 servings of vegetables/fruit in one refreshing drink!

Delicious - Not quite margarita good, but good, and much better for you than a margarita. (Hopefully nobody's having margaritas for breakfast! :)

Kid-friendly - My kids slurp it up with no issues!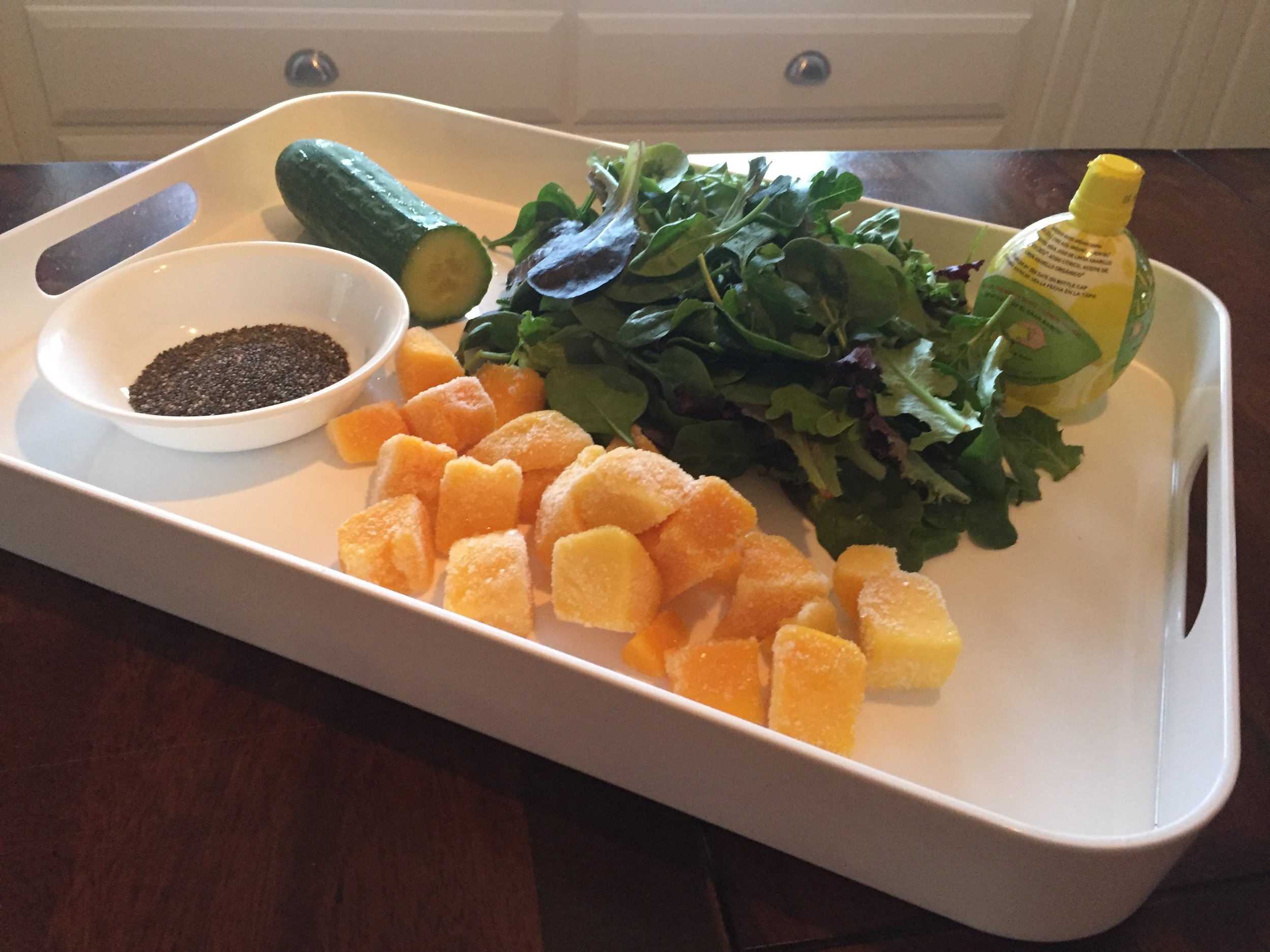 Ingredients:
1 package (5 ounces) of salad greens (I used a mix of spring greens and baby spinach for this one, but you can use whatever you prefer or have on hand.)

1 package (10 ounces) of frozen mango chunks.

1 regular cucumber or 1/2 of an English cucumber

Water (Add to achieve desired consistency -- more for a liquid consistency, less for a thicker consistency.)
Optional ingredients:
2 tablespoons of chia seeds

Splash of lemon or lime juice
Directions:
Throw all ingredients into the blender.

Blend.

Enjoy!
This recipe makes two large smoothies, each containing two servings of fresh vegetables and one serving of fruit. The chia seeds add additional protein, fiber, omega 3's, and antioxidants. Each smoothie is only 150 calories with chia seeds, 90 calories without the seeds. I like to pair it with a handful of almonds, cashews, and/or pistachios for a nutritious breakfast to start the day off right.
This post was originally published on January 26, 2017.